A first look
Being in the form of a text file, the data can easily be imported into any suitable program for data analysis, including a spread sheet program, such as MS Excel. In the following, we use this program. Importing is done by: File > Import > Text File > select your Text File > Delimited Text File > Delimiter is Spaces > Finish.
Now, each row (or line) represents a single spectrum taken at the time instant as indicated by the column at left. The columns give the data as described above. It is helpful to insert a row above the first spectrum, and type in what each column means.
If you deal with a file which recorded data taken at several different sources, it is best to separate the data array of each source into its own worksheet.
Let us deal with a worksheet containing the spectra for a certain source. We shall suppose that we had recorded several of many spectra for this source using the same frequency grid. Before starting the analysis, it is best to have a first look at the data.
First, we should like to see what the overall average spectrum looks like. To do this, we have to make rows that contain the abscissae and the ordinates for this plot:
insert at least four rows above the first row of your data (or below the last one, if you prefer)
one row shall contain an array of the frequencies corresponding to each column: the first field will get the first frequency, the subsequent fields get the sum of the previous frequency and the frequency separation. Do this up to the last column containing data
below this array make another array, containing the average flux for each column
Now select these two arrays and insert a Scatter Plot, which could look like this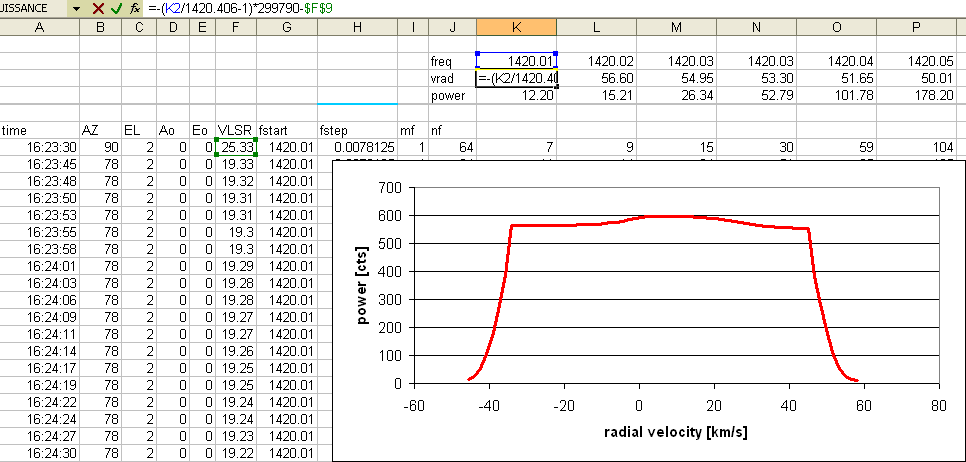 From this plot we may see that there is a clear spectral feature centered on about 1420.25 MHz, and that the background is at a level of about 500 counts. The feature - it is from the Galactic Plane - is only 30 counts above the background, and it extends from 1420.10 to 1420.32 MHz. If we had been present during the observation, we would have seen this plot as the result of the time-averaged spectrum, something like this: