Analysis: Another way of looking at the l-v-map

We may also obtain a direct interpretation of the longitude-radial velocity map by superposing the curves of constant rotational speed: Using the formula that gave us the maximum radial speed

Vrad = vrot - vsun * sin l

we plot this speed as a function of longitude for a constant value of v_rot. In the map below the curves refer to vrot = 250, ..., 200 km/s (from top to bottom).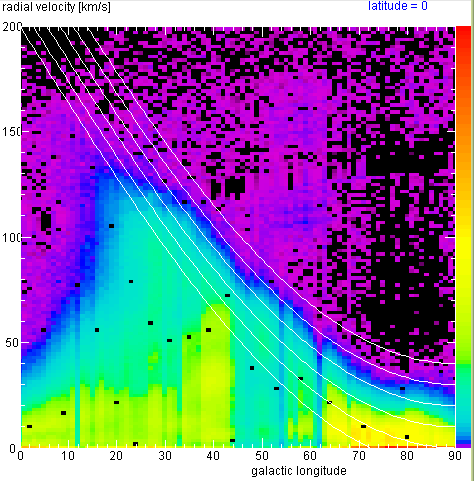 Depending on the signal level that we decide to mark the maximum velocity - for instance the border between blue and violet - we see that for longtitudes greater than 30° the rotational speed is around 240 km/s. In the innermost part the speed drops to 220 km/s (at 30°) and 200 km/s (at 10°), where the rather weak emission makes it a bit difficult to define reliably what the maximum radial speed could be ... obviously more sensitive observations are needed.
---
| Top of the Page | Back to the MainPage | to my HomePage |
---
last update: Nov. 2010 J.Köppen