Latitude-Velocity Diagrams
When making the vertical profiles, we throw away the information from the radial velocities. Since the frequency of a feature in the spectrum relates to the radial speed with with this packet of gas moves away from us or moves towards us, we can learn also something about how the gas motions in the disc: The easiest way is to make a map - similar to the waterfall plot:
It is best to open a new Excel worksheet and copy and paste the Flux–Baseline fields into a number of rows which you had labeled with each latitudes (again, when you paste be sure to "Paste Special -> Values").
in the row above this block you put consecutive numbers which indicate the number of the frequency
then grab the entire data block and make a surface plot. As with the waterfall plot, you can change the number of color levels and the colours themselves to your taste ... Since the higher frequencies means more negative radial velocities, it is good to invert the sense of the frequency axis.
The result would look like this (our data for l=150°, done with latitude steps of 2°)
Below are the latitude-velocity maps from the original Leiden/Dwingeloo Survey data, for l=20°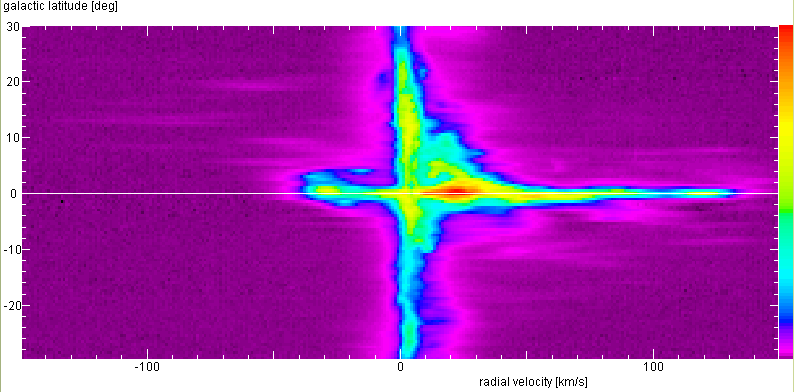 90°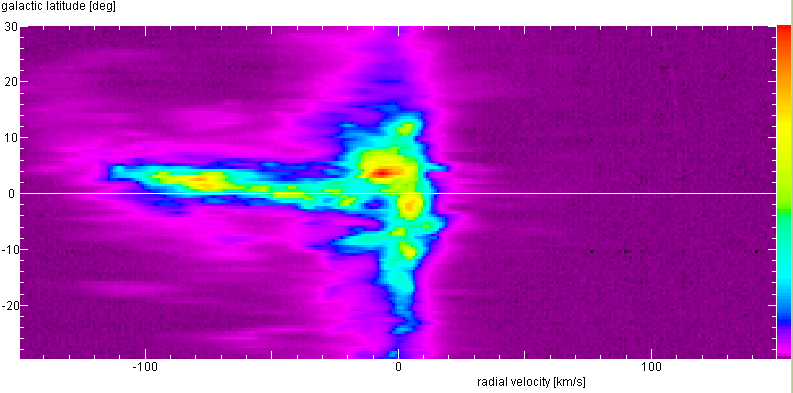 150°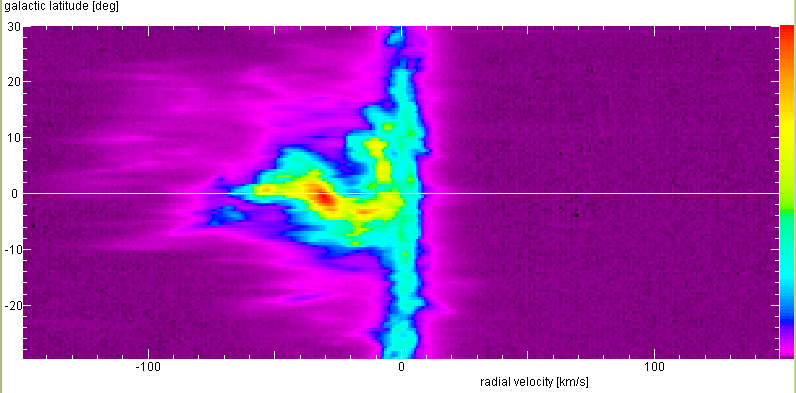 and 180°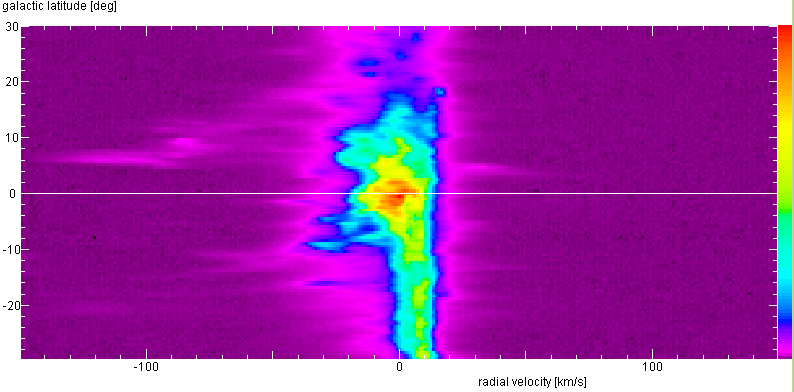 The white horizontal line marks the Galactic Plane. Our plots cannot show structures as fine or as faint as these, but the essential features will be there! What do they mean?
in the Plane you find a large range of radial velocities.
here, one also finds several maxima in intensity. These are the various spiral arms
there is a strong component at zero radial velocity: this is gas in our neighbourhood which follows the Sun's motion in the Galaxy closely: All around us is the gas from our own spiral arm.
the anti-centre position (l=180°) does not show much variation in radial speed, because the gas is essential on circular orbit about the Galactic Centre, and in this direction we see all the motion tangentially, hence with little radial velocity!
at latitudes away from the Plane, the local gas still dominates, but some gas at other velocities can be seen
---
| Top of the Page | Back to the MainPage | to my HomePage |
---
last update: Feb. 2010 J.Köppen