Results from 2011
Employing this improved technique possible with the new software, Mary-Anne Fobert was able to take 106 individual measurements of the Moon, covering the entire lunar phase range. To our great surprise, meaningful measurements were obtained during nearly all weather conditions that were present this winter: clear sky, mist, fog, and overcast sky. Only during a snowfall the lunar signal could not be pickd up. A comparison of her data with Monstein's curve (in red) is shown below: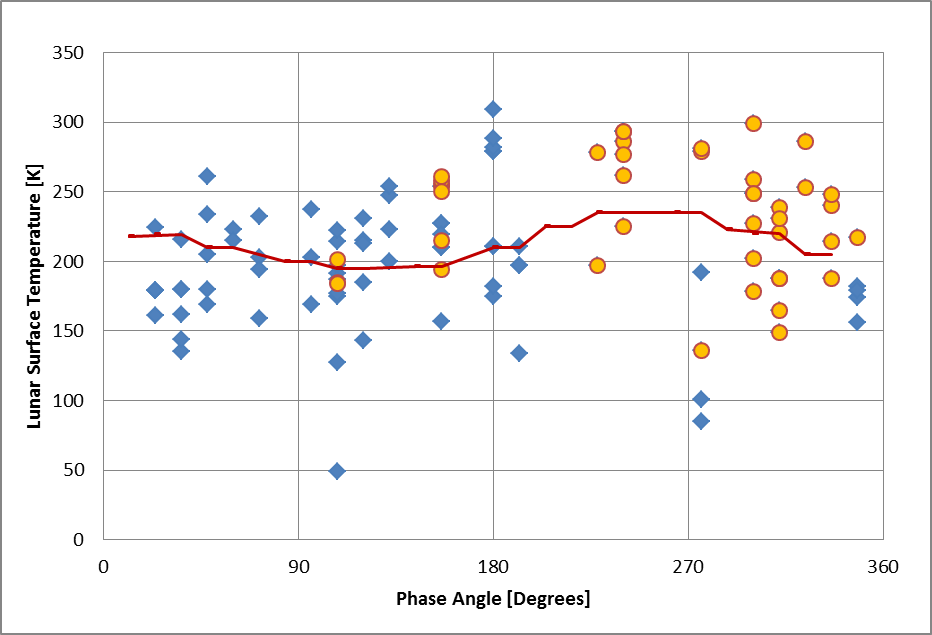 The average values correspond well with these other observations, however the scatter is still too large to detect the systematic relation with lunar phase. Some data - like the one with a very low value of 50 K - obviously come from observations where the Moon did not pass through the center of the antenna lobe. A careful look reveals that the readings taken when the Moon was observed at elevations less than 20 degrees (orange dots) are systematically higher than the ones taken at higher elevations (blue diamonds). The reason is quite simple: at lower elevation we observe through a larger airmass and hence we receive a larger amount of thermal radiation from the atmosphere than if the Moon is observed closer to the zenith (see also here). Since in our analysis we do not yet separate the elevation-dependent atmospheric noise from the constant receiver noise, as it would require numerous additional measurements, we overestimate the lunar temperatures!
An even closer look shows that the weather does not affect the measurements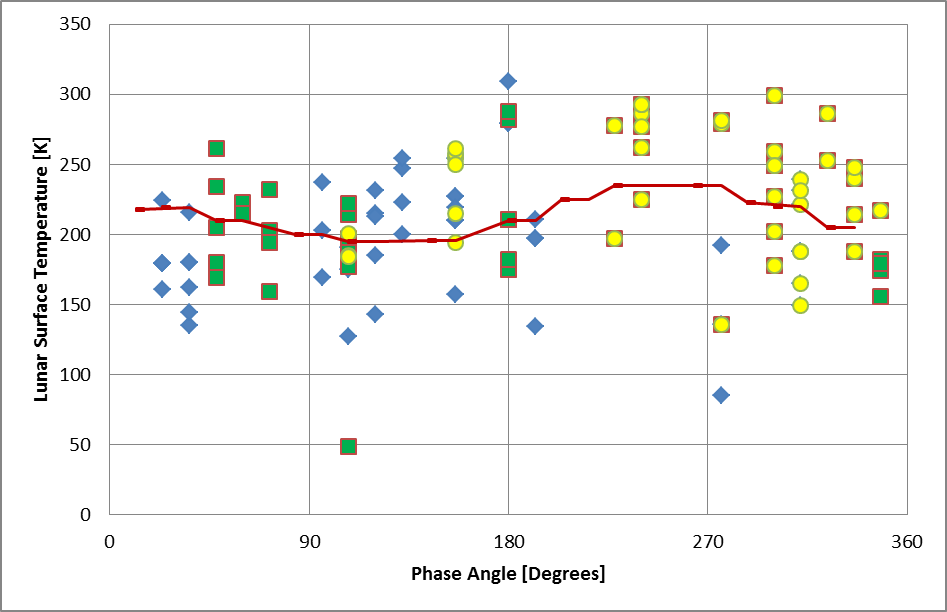 Blue diamonds indicate clear skies, green squares overcast skies, fog, or mist, but all taken at elevations higher than 20 degrees. Yellow symbols refer to observations at low elevation, the circles showing clear sky conditions. It is clearly the elevation effect that dominates!
Lastly, we had become aware that our previous elevation for the flux calibration was not sufficiently low enough for the Holiday Inn building to fill the antenna beam completely. Hence, we now use point 2 degrees lower. As a consequence, the system temperatures (and hence the derived lunar temperature) now are significantly lower, as shown below: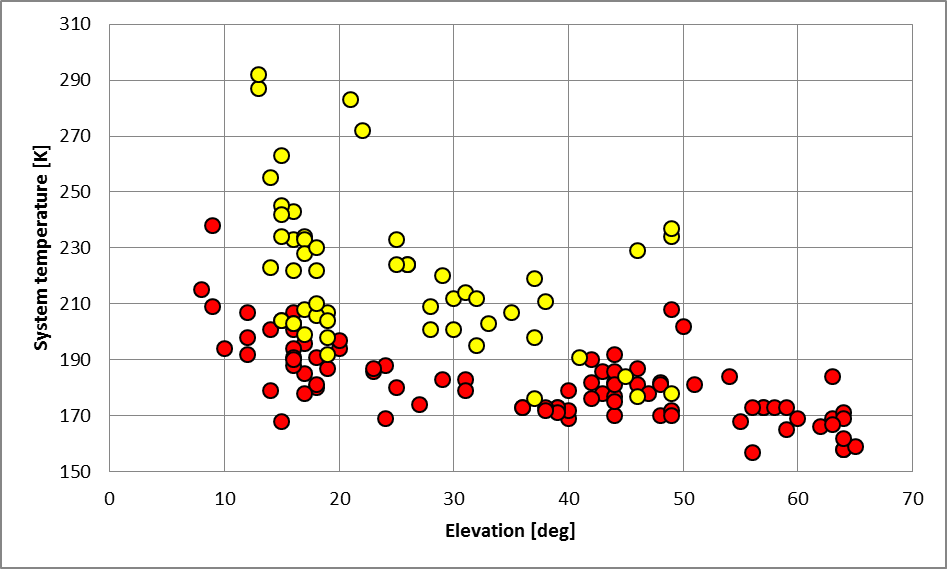 Yellow dots are measurements done with the old calibrator position, red dots with our new position. It demonstrates how our system temperature increases due to the higher sky noise at low elevations, but that the measurements with the old calibrator give values systematically higher by about 50K.

Having identified these two effects, we now can refine our observational techniques! Next round ...
---
A more reliable method of flux calibration is described here, and how to interpret the measurements. .
---
| Top of the Page | Back to the MainPage | to my HomePage |
---
last update: oct 2020 J.Köppen